Welcome to the

Kritika Wiki! Kritika is an exciting action-packed hack-and-slash MMORPG based around both single-player adventure combat and teamwork-focused multiplayer action. Currently there are two versions of Kritika, one is Kritika Online (PC) as a progenitor and the second is Kritika: The White Knights, a standalone mobile game for Android/iOS. Break your limit and awaken your character to keep challenging thousands of players anytime from PvE leader-boards to PvP itself.
We currently have 185 articles and growing!
For any Wiki Editors who wish to translate this into their native language, please use this link
---
Recent changes (List) - Latest pictures - Random page - Search
Wikia Support - Editing the Wiki - About
Game Modes
Gameplay
Other
Community
Official Links
---
Modes (WK)
Items (WK)
Gameplay (WK)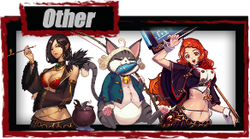 Ad blocker interference detected!
Wikia is a free-to-use site that makes money from advertising. We have a modified experience for viewers using ad blockers

Wikia is not accessible if you've made further modifications. Remove the custom ad blocker rule(s) and the page will load as expected.